Event:
Ethical Finance 2019
Organiser:
Global Ethical Finance Initiative
Location:
RBS Conference Centre, RBS Conference Centre 175 Glasgow Road, Gogarburn, Edinburgh, EH12 9BH, Midlothian
Audience:
Finance Professionals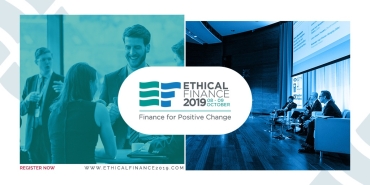 We are delighted to be supporting the Global Ethical Finance Initiative's (GEFI) Ethical Finance 2019 summit that is taking place in Edinburgh on 8-9 October 2019. The latest agenda is now available at www.ethicalfinance2019.com and, with a fantastic line-up of speakers, it is shaping up to be a must attend event for individuals and organisations interested in ethical finance. 
The 2 day summit, organised by GEFI, in partnership with Scottish Government, UNDP and RBS, will convene banks, investors, asset owners, regulators and development agencies from across the globe to explore the transition to a sustainable financial system where capital drives positive change.
Topics that will be explored:
Financing Sustainability: Designing for A Future on Earth
SDGs and the UN Principles for Responsible Banking
Reforming Banking Culture – How do we Restore Trust and Confidence?
Accelerating Green Finance
FinTech for Good
Data Paradigm Shift – Exploring ESG Data Needs
Values-Based Investing – an Asset Owner Perspective
Measuring Impact – Asset Manager Challenges
Finance for Sustainable Supply Chains
Innovative Financing Structures and Using Blended Capital
Confirmed speakers include:
Dame Susan Rice, Practitioner Member, Banking Standards Board
Sir Rodger Gifford, Chair, Green Finance Taskforce
Sarah Breeden, Executive Director for International Banks Supervision – Prudential Regulation Authority (Bank of England)
Saker Nusseibeh, CEO, Hermes Investment Management
Dr Lena Wilson CBE, Non-executive Director, Royal Bank of Scotland
David Pitt Watson, Consultant Investor and Author
The Most Revd and Rt Hon Justin Welby, Archbishop of Canterbury (Video address)
Gary Gillespie, Chief Economist, Scottish Government
Tan Sri Dato Azman Mokhtar, Former MD, Khazanah Nasional Berhad
David Blunt, Head of Conduct Specialists Department, Supervision – Financial Conduct Authority
For further information please visit www.ethicalfinance2019.com
We have a limited number of 50% off discount codes* so please get in touch with events@uksif.org for details.
*Includes early bird rate
Good Money Week 2019 Sponsor: