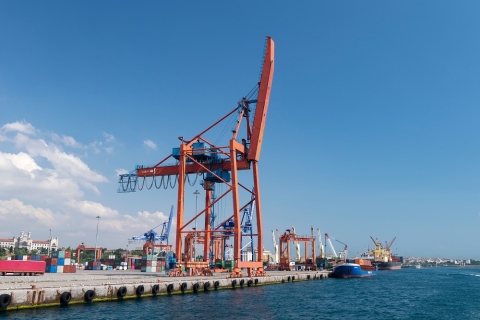 Mersin Port is a large port-terminal operator in Turkey. Earlier this year, we had our first discussion with the company about how it's dealing with environmental, social and governance (ESG) issues. Two areas we were particularly interested in were its response to the Covid-19 pandemic and in how it's aiming to digitalise its operations.
The company said that it doesn't expect a very significant slowdown in trade as a result of the pandemic. From a financial point of view, it has sufficient cash reserves and expects its revenue to hold up well given the nature of the contracts it has with its customers. From a social perspective, the company has medical and life insurance in place, with healthcare benefits for all its employees. It has also implemented safety measures for staff working on site, such as masks, temperature screening and gloves.
Digitalisation is key for Mersin to improve customer service and gain efficiencies. However, the company did recognise the risks that come with a more automated and digital business, including the potential for cybercrime.
Lastly, we discussed allegations that controversial weapons had been shipped through Mersin Port. This was an important point for us to clarify given the high risk of potential reputational damage and financial liabilities if the port operator was found guilty of facilitating shipments to countries under international embargo. However, Mersin assured us that the company wouldn't face legal challenges as the customs authority is responsible for verifying and approving the contents of containers which go through the port.
On the back of our engagement, Mersin appeared to understand the importance of communicating with investors on all aspects of ESG, something which we'll continue to monitor.
"Digitisation is key for Mersin to improve customer service and gain efficiencies."